by J.D. Roth
Overcoming fear is one part of living life without regret. You do that by being open to new people and new experiences, and by acting even when you're afraid. Another aspect of a rewarding life is learning to find happiness in your daily existence — and building upon that happiness to construct a meaningful life.
More than two thousand years ago, the Greek philosopher Aristotle wrote, "All knowledge and every pursuit aims at…the highest of all good achievable by action." What is that good? "Both the general run of men and people of superior refinement say that it is happiness, and identify living well with being happy."
Happiness, he said in the Nicomachean Ethics, is "the meaning and purpose of life, the whole aim and end of human existence."
To some extent, a good life requires good fortune. Happenstance can undermine the well-being of even the most virtuous person. But Aristotle held that ultimately happiness isn't a product of chance. You can allow misfortune to crush you, or you can choose to bear the blows of fate with "nobility and greatness of soul". Although fate may play a role in your affairs, Aristotle believed that in the end, happiness depends upon yourself.
Modern psychologists agree.
In The How of Happiness, Sonja Lyubomirsky shares the results of years of research into what makes people happy. Studies with twins indicate that about half of human happiness comes from a genetic setpoint. We're each hardwired for a certain baseline level of contentment.
Other studies have shown that roughly ten percent of happiness is determined by our circumstances. Some of these conditions — such as your age or eye color — cannot be changed. But some of these external factors — such as your job, income, or marital status — can be changed.
But the surprising part of Lyubomirsky's research is that the remaining forty percent of happiness comes from our intentional activity, from our attitudes and actions. It's a by-product of the things we think and do.
Because circumstances play such a small role in your well-being — and because many of your circumstances are unchangeable — it makes more sense to boost your bliss through intentional activity, by controlling the things you can and ignoring the things you can't.
I've been reading and writing about money for nearly a decade. I've been reading and writing about happiness for nearly as long. The subjects are deeply intertwined. Based on my research and experience, I've developed not only a philosophy of well-being, but a short summary of the research into how to be happy. This hundred-word piece is a sort of personal roadmap; whenever I sense I'm drifting off course, I re-read it, and I find my way again.
My friend Lisa is a graphic designer. Recently, for kicks, she and I collaborated to create a print based on my summary of how to be happy. It looks like this: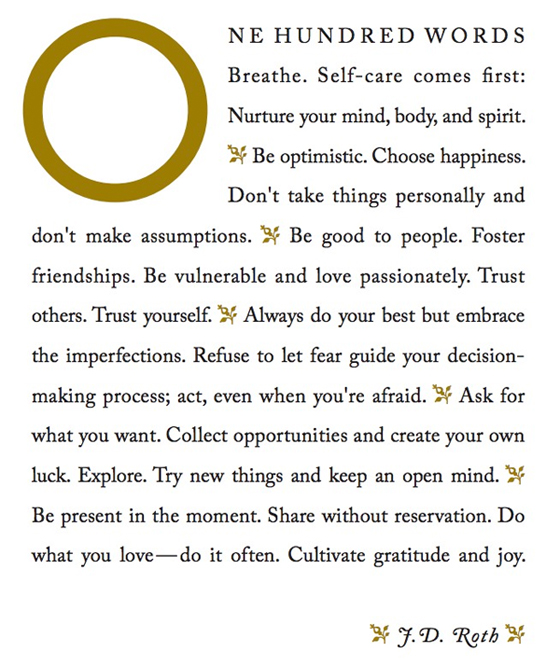 That's dozens of books about meaning and happiness compressed into one hundred words. Notice that none of this advice involves waiting for someone or something to make you happy. All of it requires intentional activity on your part to increase your well-being. Happiness isn't something that just happens; happiness is a byproduct of the the things you think and say and do.
We'll talk a lot more about happiness in the months to come. Stay tuned!
Updated: 07 April 2014