by J.D. Roth
Today, Nick and I paid to tour the ruins of Ephesus, which lie just a few kilometers outside of Selçuk. (And which are, quite frankly, the only reason people come to Selçuk.) For the most part, I found the trip tedious. But I had a good day.
Ephesus was a major city in the ancient world, once boasting a quarter of a million inhabitants. The Temple of Artemis — one of the Seven Wonders of the Ancient World — was located here. The apostle Paul lived here as he helped to spread the early Christian church. (He wrote the first letter to the Corinthians here, as well as the epistle to the Ephesians.) Another apostle, John, lived and worked in Ephesus. In fact, he died here. What's more, he's purported to have brought Jesus' mother Mary to Ephesus. (This morning, we visited the supposed house where Mary lived. So did thousands of other tourists.)
With all this history, why didn't I care for Ephesus? Because frankly, I've seen enough Roman ruins in my lifetime. Can you believe I've become this jaded? I have. There was nothing in Ephesus I hadn't seen before, and the place was crowded. Damn crowded. Our tour guide estimated that 30,000 people passed through the gates today. I think he may have under-estimated.
If you've never seen Roman ruins, or if you have a particular interest in Christian history, then Ephesus might be a keen place to visit. But if you have seen Roman ruins (in Rome, for instance) or aren't particularly interested in Christian history, I wouldn't recommend Ephesus as a "must-see".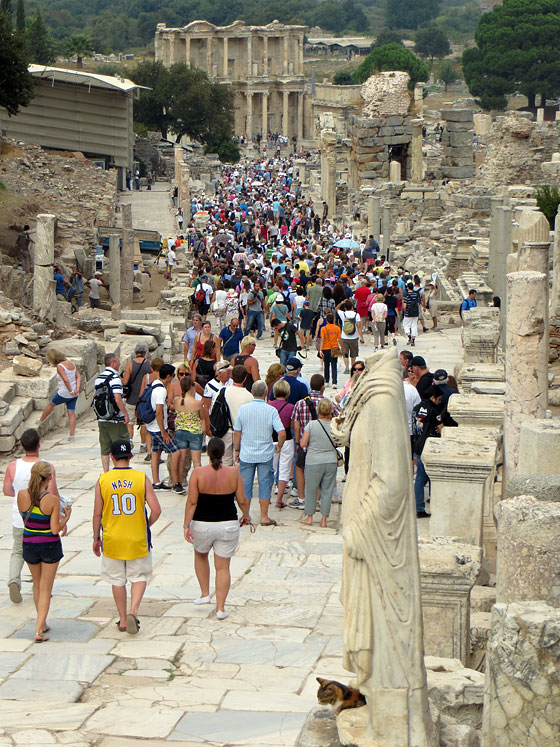 Ephesus: feral cats, marble columns, and crowds. Lots of crowds.
Our tour today actually stopped at four sites…and two "shopping opportunities". I usually hate these come-ons that are built into many tours around the world. But I enjoyed the two today.
First, we stopped at a leather factory. We watched a short fashion show featuring fancy leather garments. Then we were funneled into a leather showroom. The thing is, I really liked the first leather jacket we saw on the runway: a brown, reversible number that I thought would look good on Kim.
So, I boldly approached a salesman and tried to buy it. I had no luck. Price wasn't a problem. It was spendy, but I'm sure there was plenty of room to negotiate. Instead, all they had were smalls or sizes like 4XL. The salesman tried to convince me to buy another color or to buy a couple of sizes too big, but I stood firm. No jacket for The Girl.
Our second stop was at a…wait for it…Turkish carpet dealer.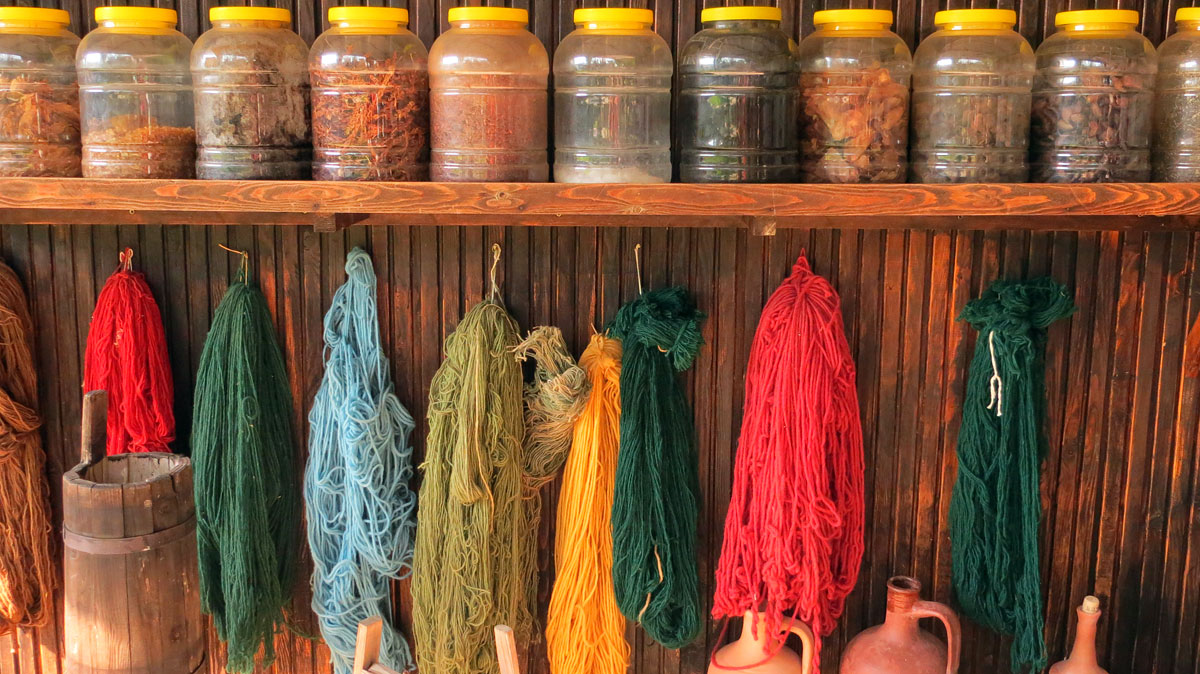 Yarn at the carpet shop.
If you've never been to Turkey, this might not mean much to you. But if you have been to Turkey, you're groaning and shaking your head. I know it. You see, you cannot move five meters in Istanbul without being accosted by a man who wants to invite you for tea in his shop. Or to play backgammon. And oh, by the way, wouldn't you like to see his carpets? Only to look, not to buy!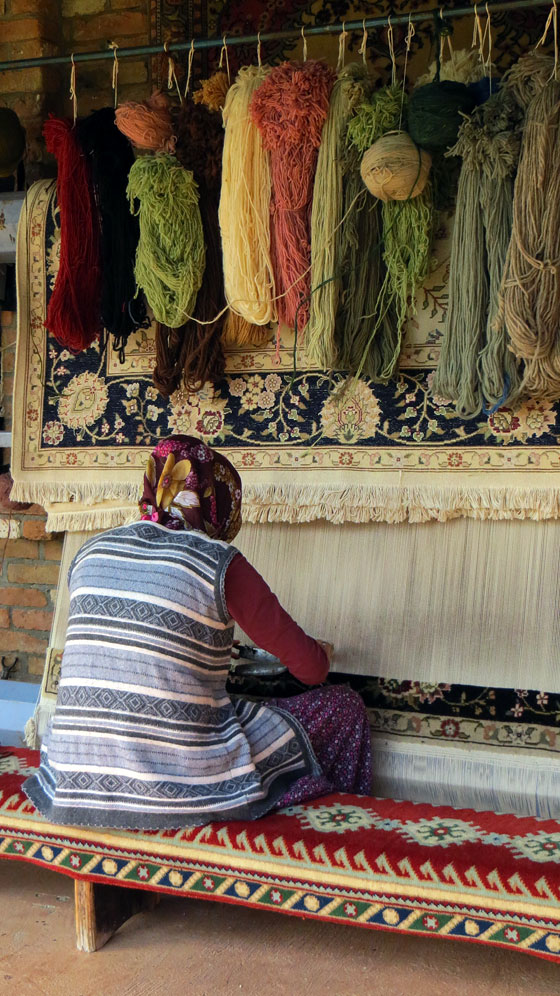 Weavers are paid by the piece and might finish one piece per year.
At this "shopping opportunity", we received a ten-minute lesson on how silk and wool are harvested, dyed, and woven into the fine carpets on display inside the showroom. Then we were led into said showroom, where the salesman lectured to us about the beauty of Turkish carpets while his assistant unrolled dozens of them on the floor before us.
It was entertaining.
Nick was drawn to the natural carpets, the ones without dyes. These take on the colors of the fibers of the animals from which the wool is harvested. They're not nearly as soft as, say, a silk rug, but they've got an undeniable charm to them. Seizing an opening, the salesman went to work on Nick.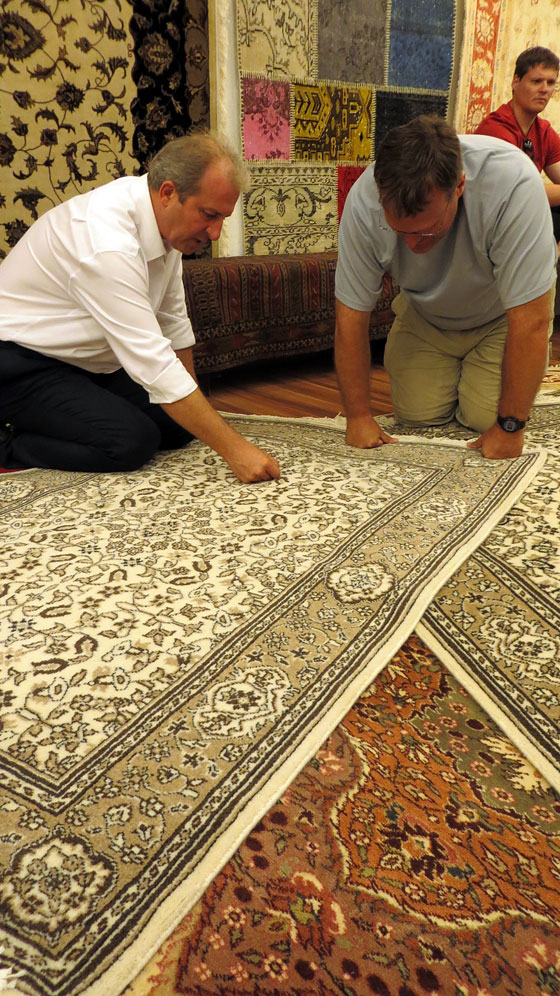 My cousin Nick getting the hard sell from a carpet salesman.
Meanwhile, I was drawn to a tapestry in the corner of the room. Nobody else seemed to notice it, but I thought it was gorgeous. Plus, since it was much smaller than an actual carpet — maybe 12 inches by 24 inches — I thought I might be able to afford it. I asked another salesman about the price. When he asked me to follow him to another room, I knew I was in trouble.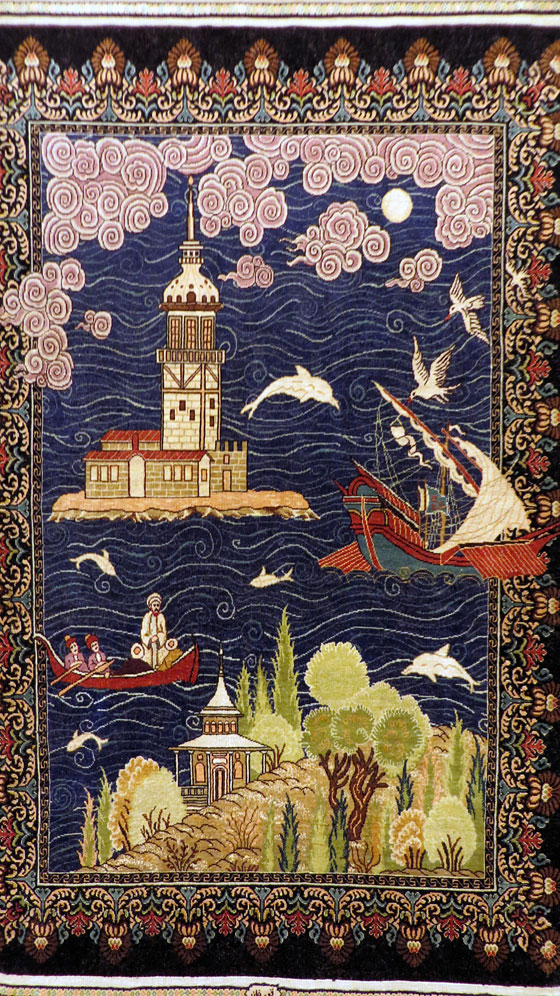 This reminds me of Sinbad. I love it.
"It's beautiful, no?" the salesman asked me.
"It's gorgeous," I said. "How much is it?"
"Look at how fine the craftmanship is," the salesman said. He flipped the tapestry over so I could see the back. "It has more than 500 knots per square centimeter. It took very long to make. And here it is signed by the artist."
"Yes, but how much does it cost?" I asked.
"Twenty-eight thousand dollars," he said. I just about died.
"That's as much as a car," I said. "I can't afford that."
"Perhaps you could pay in installments," the man said. "Plus, we can ship to your country for free. You pay now, you have the piece in six to eight weeks."
"I don't think so," I said.
"How about another piece then," he said. He motioned to his assistant, who brought out four, eight, a dozen more.
"They're beautiful," I said. "But they're all going to be too expensive. How much is that one?"
"That is $38,000, sir."
"And that one?"
"Only $9,000."
"Do people really pay these prices?" I asked.
The salesman looked offended. "Yes, of course," he said. "These are fine pieces of art. Some people appreciate them. See this carpet on the wall? That one costs $150,000. Many people would gladly pay that much for it."
"Not me," I said. And I thanked the salesman for his time.
I went back to the main room, where Nick was still talking with the salesman about the carpet he liked. The price seemed reasonable — only $2200 — but ultimately Nick declined. Nobody in our group bought a thing, and the carpet salesmen went hungry.
A man selling olives in the hillside town of Şirince.
Back in Selçuk after the tour, Nick and I caught a van (dolmuş) up the hillside to the Greek village of Şirince. There we wandered the streets, looking at the handicrafts for sale (which were slightly different and slightly cheaper than we've seen in other parts of Turkey), and petting the cats. Because prices were good, I bought my first souvenirs of the trip.
Before heading home, we stopped for dinner. I ordered the chicken and got to watch while the chef prepared it: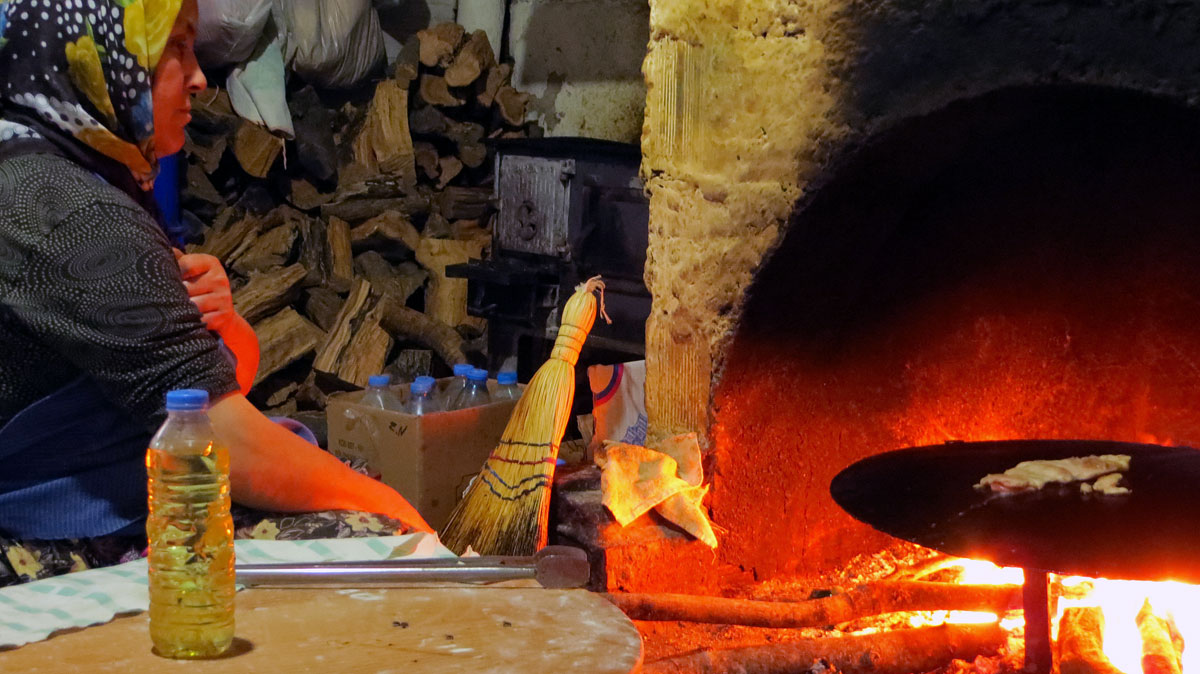 Grilled chicken and a glass of wine for fourteen lira (about seven bucks). Not bad!
How awesome is that?
In the end, it was a good day, even if the primary focus — the ruins of Ephesus — disappointed me. That's just how travel goes sometimes.
Note: I really did like that tapestry. It's a thing of beauty. But I don't have $28,000 to throw around on art. And even if I did, I'd rather use that money to travel.
Updated: 19 September 2012