Because of Opt-Out Prescreen, I no longer get credit card offers at home. From time-to-time, though, I get them at work. A few weeks ago, I received an offer that puzzles me:
Seems pretty normal, huh? Well, let's look more closely. Here's the address:
And the fake card: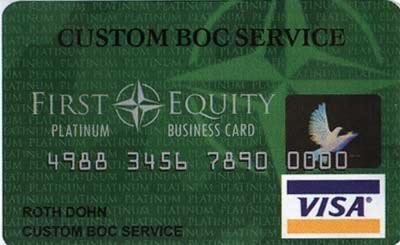 (Why do they include fake cards, anyhow? Do they really induce more people to apply?)
I have no idea how anyone found a database in which my name was listed as "Roth Dohn" instead of "John Roth". And "Custom Boc Service"? What exactly does that company do?
All I can come up with is that maybe person A, who had a heavy accent of some sort, read information from an existing database to person B over the phone. But then why didn't they mess up the street address? The street address is difficult, even when I'm giving it, and I've been repeating it for nearly forty years.
If I were more mischievous, I'd fill out the application and send it in. I have no doubt that Roth Dohn would get a credit card.
In related news: Today I submitted an application for my first personal credit in many years. (Under my real name — not as Roth Dohn.) It was a tough decision. My inability to handle credit responsibly got me into debt problems to begin with. But I'm a different person now. I'll be fine.
After many people recommended a Capital One card for overseas travel — there are no fees on purchases made outside the U.S. — and after realizing this could save me money and provide convenience, I decided to apply on-line. Unfortunately, the web-based application hung. It wouldn't accept my birthdate.
I called Capital One instead. "I'd like to apply for a Capital One No Hassle Cash Rewards card," I told the man who handled my call.
He was very eager to help me. "No problem, sir. We can help you out. We've got a wide variety of cards with great mileage programs," he said.
"I don't want a card with a mileage program," I said. "I want the Capital One No Hassle Cash Rewards card. I already researched it online."
"I understand, sir," the man said. "But you can use miles just like cash. For example, with this card…" He rambled on and on. Eventually I convinced him to let me apply for the card I wanted, though he kept trying to talk me out of it. (Do these folks get commissions for selling certain cards?) Also, the APR he quoted me over the phone was 15.88% instead of 13.88%, but I didn't fuss about it. I will not carry a balance on this card. This card is simply a convenience. The APR is irrelevant.
I spent twenty minutes on the phone completing the application, increasingly frustrated with the customer service rep trying to steer me toward choices I did not want. And then, when the application was finished, he announced, "Thank you, Mr. Roth. If your application is approved, you will receive your card in two or three weeks."
Oops. I may have cut the timing too close. I've got my fingers crossed — we leave for Europe three weeks from today!