Walking home from work today, I decided to take the long way. Most of the time, I choose the easy quarter-mile stroll downhill from the office to our happy half acre (or happy .62 acre, if you'd like to be precise). But to celebrate the first day of summer, I took the river-forest loop.
The river-forest loop is exactly what it sounds like: a series of quiet streets that wend along the east bank of the Willamette River, easing their way beneath stands of tall oak, fir, and pine. It's three miles from our house down the river-forest road and back again. I choose this route when I need exercise or want to think. And, on days like today, I choose it to soak up the scenery.
As I walked, I looked at the trees and the river and the lake. I listened to the birds. I watched the squirrels go about their squirrely business. I nodded to the neighbors, and (strangely enough) I encountered three different loose dogs traipsing around unleashed, each of which was pleased to spend some time walking with me a ways.
After a while, I stopped looking at nature and started looking at the homes. The river-forest loop has some great houses. In fact, the side of the street next to the river is lined with what can only be described as mansions. The homes are stately and ornate, with beautiful, manicured lawns. (Rumor has it that one of these homes belongs to Will Vinton, of California Raisins fame.)
I've looked at these homes before — and even have my favorite (which I'm dying to buy if it ever goes on the market) — but usually in just a cursory fashion. Today, I really looked at them. And as I looked, I began to covet.
"I want a house like that," I thought as I passed the new house built from river rock and brick. "Or maybe one like that," I mused while considering the next lot, which includes a tennis court.
I imagined what it would be like to live in homes like these, homes with arched double-door entries, vaulted ceilings, and wrap-around porches. How much would it cost? (And where would I get the money?) What would this new, wealthier J.D. be like? What would I do? How great would my life be?
But my imagination really took flight when I saw that one of the homes was for sale. I stopped at the top of the driveway to admire all of the gables, the fountain, and the three-car garage. I pictured the other side, which must sit right at the river's edge. (The above cell-phone photo is of this house. It's listed for $2.3 million, or almost ten times what we paid for our house.)
"Wow," I thought. "If only I could afford a place like that!"
Yes, J.D. If only. And then what? Would that make you satisfied?
As I resumed my walk, my route led me back through normal neighborhoods: ranch houses and minivans and small city lots. Several folks were out working in their yards, just as I've been doing for the past few weeks. Like me, they're trying to make their homes look as pretty as possible.
Suddenly it occurred to me that I didn't need some fancy dream house. I already have one. I recalled the excitement that Kris and I felt when we first found our current place back in 2004. We thought it was perfect. Our hearts broke when we thought we'd lost the home by $500. And our spirits soared when the prospective buyers backed out. When we moved in, we were overwhelmed, but mostly in a good way. We thought this was our dream house.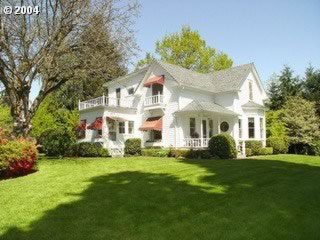 Our home, which we call Rosings Park.
You know what? It is our dream house. And I have a great life already, even without a fountain or a riverfront view. Here it was, three in the afternoon on the first day of summer, and I was walking home from work. And here I was again, half an hour later, plopped on a park bench writing a blog post in a notebook while all around me kids played tennis and basketball. At home I'd grill some steaks and pet my cats and read a couple of comic books. What more could I ask for? (Well, besides for Kris not to be on the road for work, that is.)
I'm always urging others to appreciate what they have. When you feel that aching urge to keep up with the Joneses, when you wake up and realize you've begun to succumb to lifestyle inflation, it's time to pause and take stock of what you have. When you slow down and really appreciate what you already own, you can often slake the thirst for something bigger and better. Maybe it's time to take my own advice.
In my case, I reminded myself that although our house has been a little rough around the edges lately, that's mostly because I haven't had time to take care of the property like I ought to. After I'm through with my big yardwork push, and now that we've repaired the sewer line, and after we purge a little more Stuff, I'll feel much better about our place again. We'll have people over. We'll laze in the afternoon sun. We'll pick peas and berries from the garden.
I'm smart enough to realize that a $2.3 million dream home won't make me any happier than where we live now. I think I'll stay put.