It's the middle of August, which means that my hometown is playing host to the county fair.
I've always loved the fair. As a boy, I loved it for the rides and attractions: the Ferris wheel, the Spider, the Fun House, the games. As a teenager, I loved it as a place to take dates and to hang out with friends. But as an adult, I love it as a showcase of the skills and talents possessed by my friends and neighbors, and as a lingering slice of Americana. When I walk onto the fairgrounds, I feel like I'm walking back in time.
Nearly every year for as long as I can remember, I've made the annual trek to wander the grounds, petting the pigs and goats, looking at the vegetables and preserves, admiring the photography and art, and to watch the rodeo. It's rare these days to find a place that highlights the work of the average person. Most of what we see is mass-produced and mass-marketed — "homemade" seems to be a dying art. But at the county fair, homemade reigns supreme.
If you've never watched a group of junior high schoolers show the sheep they've raised, you're missing out. Around here, llamas are a big deal: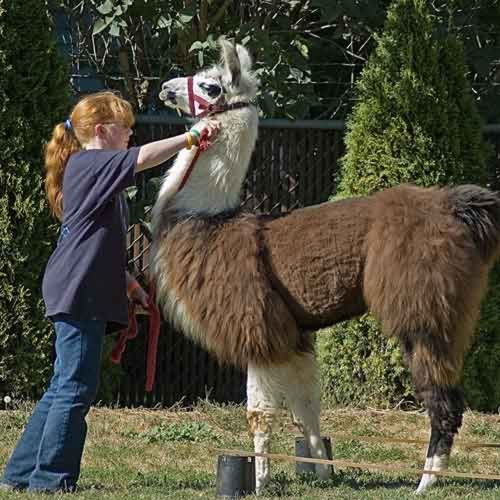 Because the Willamette Valley remains an agricultural region, there are plenty of vegetables on display at the fair. You can find rows of garden-grown peppers and carrots and corn. My favorite, though, are the freaks of nature:
From time-to-time, I even show stuff that I've made. It costs nothing to enter the art and photography competitions, yet there's the chance to win big ribbons and small cash prizes: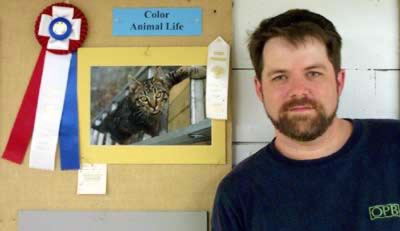 I've been encouraging Kris to enter her preserves in the food competitions, but she hasn't accepted the challenge yet. I think it's only a matter of time before she brings home some blue ribbons of her own.
The county fair makes me happy — it's evidence that there are still people who make and grow things with their own hands instead of just consuming. (I'm always reminded of Action Girl, for some reason.)
From 1947, here's a cheesy short film extolling the virtues of a day at the fair.
I know that in some places — Minnesota, for example — it's the state fair that's important, but for me it's all about the Clackamas County Fair.